For many, Halloween is just an excuse for grown folks to act up at various clubs and hotels around town. So the question becomes, where in Dallas-Ft. Worth will you be dressing up and acting up? If interested, here's a quick summary of places to go Visit our Events page for all the parties)…
Fri. Oct. 30
Tonight (Oct. 30), rap legend Da Brat from Atlanta (97.9 The Beat Rickey Smiley Morning Show) is in town at Winston's hosting their costume party. You get in free if you wear a costume and get there before 11pm. Because Winston's has a relatively small and oddly shaped interior space, you may want to call ahead and reserve a table: 972-365-1364. 3111 Welborn St, Dallas, TX 75219.
Sat. Oct. 31
It all goes down this night. 97.9 The Beat and the fast growing old school hip hop station Boom 94.5 are joining forces to bring perhaps the biggest Halloween Bash party hosted by legendary DJ Spinderella and presented by Radio One. It's the 7th annual edition and is at the nice Intercontinental Hotel in Addison. It's $22 per person. Doors open at 8 and you should probably get there early to get good parking and figure out where to go. Here's more from the promoters:
You don't  want to miss this Hot & Sexy Party so get your pre-sale tickets and  reserve your table Now by logging onto http://www.thebeatdfw.com or boom945.com. The party is guaranteed to SELL OUT so log on now for all information on hotel packages, table reservations and pre-sale tickets OR call the following numbers:

Event Information & General Admission Tickets: 972-331-5400
Table Reservations: 972-331-5500
Hotel Packages: 972-386-6000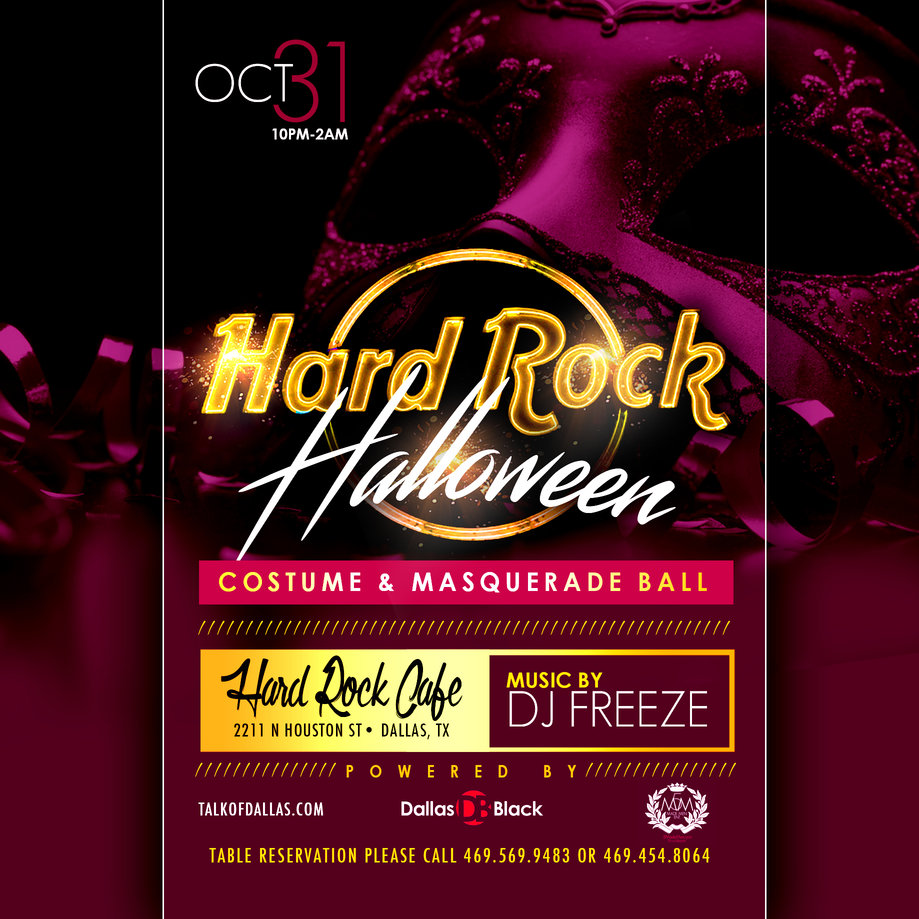 Also, Made Men Entertainment has it's Hard Rock Halloween Costume and Masquerade Ball at the Hard Rock Café, hosted by DJ Freeze. 2211 Houston Street, Downtown Dallas:
Powered by: TalkofDallas.com | 5MadeMen.com | Dallasblack.com

RSVP NOW!  This Event Will Sell Out!

For one night only, step out of your everyday life and into the alter-ego of your choosing…free to engage in mischief, escapades, and lots of fun in the center of Downtown Dallas at the Grand Opening of Hard Rock Dallas! We invite you to the sexiest Costume & Masquerade Ball in the City! Fueled by the burning hot sounds of the renowned DJ Freeze and DJ Sirgene, will pull you full-throttle into the night as you give yourself over to nocturnal sights and delights that will take your breath away.
Bottle Service: 469-454-8064

TABLE SERVICE IS HIGHLY RECOMMENDED!!!

VIP & Platinum VIP Tables: $100-$150

– the best seats in the house
– exclusive VIP section
– personal waitress
Finally, if you want to throw in a concert before heading out Saturday night. R Kelly is at the Verizon in Grand Prairie.
Other notable Halloween soirees: