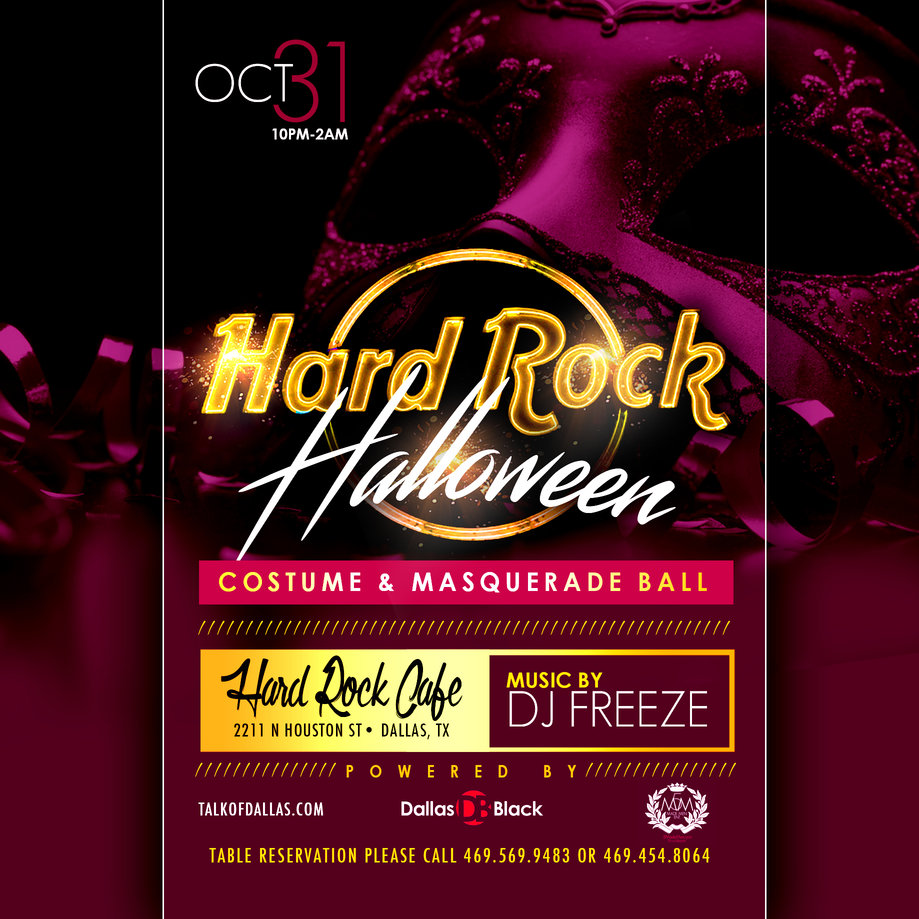 Sometimes, things just go bad at some Halloween parties. And when greedy event promoters get involved, they can go really, really bad. Such is the case with the Halloween Party at Hard Rock Café, according to a couple of our staffers and a few attendees, some of whom are influencers on social media. That's why as a business person, you have to be careful to treat all of your customers with respect because in an era of social media, good and bad things about your reputation will live on for years and years. And shady promoter practices hurt the over Dallas nightlife industry (and other majors cities) as people will stop attending if they feel like they get ripped off for special events.
Before getting into details, let's distinguish between an event promoter that promotes for a regular nightlight establishment versus an event promoter for a special event at various venues. With promoters at regular establishments, if they hope to stay in business long, they have to practice some level of customer service to both maintain a good brand and to have repeat customers. Special event promoters do not always have this same motivation. In fact, they tend prefer to profit off their one special event by any means necessary, sometimes including fraudulent bait and switch tactics.
This is what the promoters of the downtown Dallas Hard Rock Café Halloween Party did, unfortunately.
So our staffers started out by doing the RSVP for free admission on the eventbrite page. Cool, no problem. Neither the event flyer or eventbrite page doesn't specify that even if you RSVP for free admission, if you're not let in by 1030pm, you gotta pay $20 per person! The only thing the eventbrite page said was that it's free if you RSVP early, which our staffers did. There was no mention of 1030pm or $20 per person. It only said the event was from 10pm till 2am.
As is usual with trying to go downtown for a big special event, the staffers got downtown and parked by about 940pm. One of them goes to the door and was told they were not open yet, to try back later. Mind you, there was no line at this point, which contradicts a photo on one of the promoters' sites that showed a lined at 930. So our staffers decided to go to Hooters across the street to wait till event promoters and organizers were ready. Here is where the typical event promoters' fraudulent bait and switch tactic occurs.  Although, as was mentioned earlier, there was no specified deadline for free RSVP guests, they didn't open the Hard Rock Door process until about 1015pm. They knew ahead of time they would have hundreds of people attend, yet they decided to play this trick as well as not properly notify the venue staff at Hard Rock about the number of guests (our staffers had a conversation with a couple of bartenders and wait staff who told them the promoters had not properly warned the venue of the number of guests).
Needless to say, those free RSVP guests who go there early were then told their RSVP was no longer valid and that they had to pay $20 a person! This is utter fraud and the state of Texas should investigate, to be honest. Many people got mad, rightfully so, and left promptly, mentioning they would go to other places like Park Avenue or Levu, among other venues hosting Halloween parties. The crowd began to thin out some because of this bad business practice.
But that wasn't the only reason a lot of people left early.
Before going into that, the event promoters did get one thing right. The mix of people who came out was pretty professional and courteous, which is a good accomplishment.
Too bad the promoters blew it.
For those who went ahead and paid the bandit robbery, they were in for a rude awakening. Recall our staffers had learned that the venue staff was ill prepared for the much larger than expected numbers who showed up. Because of that, they only had 5 or 6 bartenders. Had they known in advance of the number, they could have easily called up more bartenders. Nonetheless, the bar was surrounded by probably a 70-80 party goers, which meant that getting a drink was impossible. One friendly wait staff person served our staffers but was so slammed with orders she could not keep up. Thus, a lot more people left before midnight.
But that was not the end of it.
At some point, our staffers noticed the organizers at the door started letting people in free! These were not VIP or anything. These were regular people. So now the people who were forced to be robbed now felt cheated.
Finally, the song list was not that great. It was ok but not really exciting. Closer to 1pm the song mix improved, but by then, about half the crowd was gone and the vibe wasn't quite there, nor was it consistent.
In the end, we give the event a D. It avoided an F because the mix of the crowd between 1130pm and midnight (its pique) was actually very good. That's about all that was good. The interior of Hard Rock is very nice, but we can't credit that to the promoters. We hope to see better organized events at Hard Rock in the future as they've had in the past.
So by posting this article, are we trying to put the promoters on blast for no reason? Not at all. But because our website and social media properties attract a lot of eyeballs from mostly black professionals (and others) who are moving to the Dallas Ft. Worth area in bigger numbers, we have to give them realistic recommendations on, among other things, the best nightlife venues and special events. Events that use fraudulent tactics blemishes all of us, and we have to do better. So from now on, one of the lessons learned from this and other special events is that we will post warnings about events for holidays and other big days at venues that don't normally handle such events (fly by night, one-time events). We will only recommend them if the event promoters and organizers have a good track record of customer service. And if you had a similar experience not just in Dallas, but any city, let us know. We will recommend those who do well, and criticize those who don't, so that the readers can have a better quality of venues and events to choose from without getting robbed at the last minute.