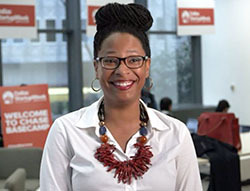 A comfortable career as a lawyer wasn't enough for self-proclaimed shopaholic Leah Frazier. Her love of fashion prompted the 32 year old to branch out from the courtroom to the catwalk.

Frazier admits the transition to fashion entrepreneur — she became a blogger and is now editor of DFW Style Daily (Opens Overlay) — didn't result in immediate success. "I didn't know what to do as far as business stuff," she says. "I learned the hard way."

Guiding entrepreneurs through those early pitfalls is the focus of Startup Week (Opens Overlay) in six U.S. cities organized by Seattle-based non-profit UP Global (Opens Overlay) and sponsored by Chase.

The inaugural Dallas Startup Week, held the first week of March, connected local entrepreneurs and startup companies with investors and mentors through free discussion panels and networking events. More than 2,700 people participated in the week's programming.